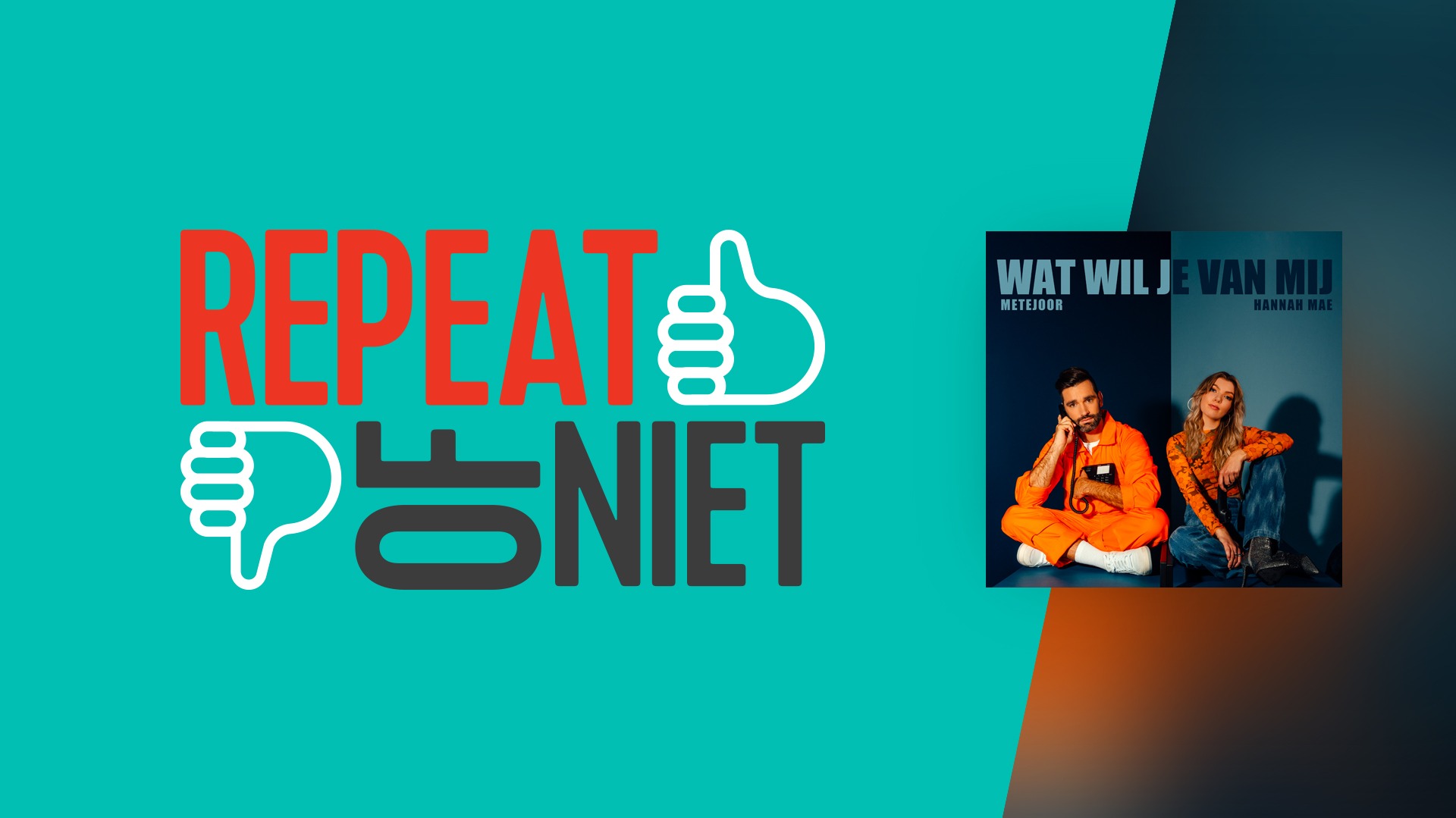 Nu in Repeat of Niet
Metejoor & Hannah Mae - 'Wat Wil Je Van Mij'
JIJ MAG HET ZEGGEN
In Repeat of Niet bepaal jij of een nieuwe track doorgaat naar de volgende ronde of niet. Je hoort Repeat of Niet iedere werkdag bij Wim (13:00-16:00 uur), 's avonds bij Joost (22:00-01:00 uur) en in het weekend bij Stephan (15:00-18:00 uur) en Edwin (21:00-00:00 uur).
Wat vind jij van de huidige Repeat of Niet? Laat het Wim en Joost weten met een gratis bericht via de Qmusic app.
HISTORIE REPEAT OF NIET
In de loop der tijd zijn al vele liedjes die in Repeat of Niet zaten uitgegroeid tot grote hits. Denk aan 'Dura' van Daddy Yankee, Nielson met 'IJskoud', 'Sofia' van Alvaro Soler, 'Faded' van Alan Walker en 'Youngblood' van 5 Seconds Of Summer.
Dit zijn de nummers die in Repeat of Niet hebben gezeten.
Repeat of Niet archief
November 2022
Metejoor & Hannah Mae - 'Wat Wil Je Van Mij'
Sigala & Gabry Ponte & Alex Gaudino - 'Rely On Me'
Meghan Trainor - 'Made You Look'
Benson Boone - 'Before You'

Oktober 2022
Claude - 'Ladada (Mon Dernier Mot)'
Bløf & Geike Arnaert - 'We Doen Wat We Kunnen'
Maan - 'Sowieso Overhoop'
Alok & Sigala & Ellie Goulding - 'All By Myself'
Sam Smith & Kim Petras - 'Unholy'
September 2022
Lizzo - '2 Be Loved'
Lil Nas X - 'STAR WALKIN''
Dean Lewis - 'How Do I Say Goodbye'
Jaap Reesema - 'Grijs'
Goldband - 'Noodgeval'
Augustus 2022
Ilse DeLange - 'Willing'
BENR - 'Beetje Gek'
Nicky Youre - 'Sunroof'
Angèle - 'Libre'
QUIQUE - 'Camino'
Juli 2022
Dimitri Vegas & David Guetta & Nicole Scherzinger & Azteck - 'The Drop'
Meduza & James Carter & Elley Duhe & Fastboy - 'Bad Memories'
Tom Grennan - 'All These Nights'
Alok & Ella Eyre & Kenny Dope & Never Dull - 'Deep Down'
Rosa Linn - 'Snap'
Beyoncé - 'Break My Soul'
Rema - 'Calm Down'
Juni 2022
Willem & Jan - 'Tussen Jou En Mij'
Chef'Special - 'Superman'
Son Mieux - 'Multicolor'
Mei 2022
Alesso & Zara Larsson - 'Words'
Lauren Spencer-Smith - 'Flowers'
OneRepublic - 'I Ain't Worried'
Swedish House Mafia & Connie Constance - 'Heaven Takes You Home'
Benson Boone - 'In The Stars'
April 2022
Alvaro Soler & Topic - 'Solo Para Ti'
Leah Kate - '10 Things I Hate About You'
Nielson - 'Dansen Aan Zee'
DI-RECT - 'Through The Looking Glass'
Anitta - 'Envolver'
Elly Duhé - 'Middle Of The Night'
RONDÉ - 'Love Myself'
Maart 2022
Kris Kross Amsterdam & Donnie & Tino Martin - 'Vanavond (Uit M'n Bol)'
Krezip & Danny Vera - 'Make It A Memory'
Tom Grennan - 'Remind Me'
Jaap Reesema - 'Mijn Kleine Presidentje'
5 Seconds of Summer - 'Complete Mess'
Februari 2022
Kygo & DNCE - 'Dancing Feet'
Tabitha & Matt Simons - 'Ik Wist Het'
Remme & Clara Mae - 'Half A World Away'
Charlie Puth - 'Light Switch'
George Ezra - 'Anyone For You'
Januari 2022
Bastille - 'Shut Off The Lights'
Cristian D & $hirak & Brysa & Ashafar - 'Amsterdam'
Gabry Ponte & R3HAB & Timmy Trumpet - 'Call Me'
Maren Morris - 'Circles Around This Town'
Minelli - 'Rampampam'
Galantis & Lucas en Steve & ILIRA - 'Alien'
Repeat of Niet 2021 - Overzicht
Repeat of Niet 2020 - Overzicht
Repeat of Niet 2019 - Overzicht
Repeat of Niet 2018 - Overzicht
Repeat of Niet 2017 - Overzicht
Repeat of Niet 2016 - Overzicht
Repeat of Niet 2015 - Overzicht
Repeat of Niet 2014 - Overzicht
Repeat of Niet 2013 - Overzicht